Hi there!
I'm the founder of this wiki (although with a new account). I am 25 years old, a transgender woman, and currently working towards performing in drag and working on my writing to hopefully be published (I would love to be with either TOR or Orbit, I love the stuff the comes from those two houses!).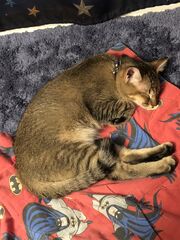 I love to read and write in my free time, as well as play with make up and video games. I love to read fantasy, science fiction, and horror (both books and comics) and watch movies in those genres. I mainly write in those fields as well. I'm also really into learning languages, make up artistry (both on myself and on others), astronomy, geology, and history. Currently, I work as a certified pharmacy technician at a national pharmacy chain.
Some of my favorite authors include Brandon Sanderson, Seth Dickinson, C. T. Rwizi, Erin Morgenstern, Derek Landy, Marie Brennan, Adrian Tchaikovsky, R.S. Belcher, N. K. Jemisin, Fonda Lee, Kristin Cashore, Laini Taylor, Neon Yang, Mike Mignola, Grant Morrison, Alan Moore, Alejandro Jodowrosky, Frank Herbert (thank you for my new name lol), Rae Carson, , I don't watch much tv, but I do like some anime (Sailor Moon, Naruto, Bleach, Death Note, Inuyasha, things of that nature) and some select shows (Stranger Things, RuPaul's Drag Race, The Mandalorian, among others). If you ever want to chat about tv or books, just send me a message!
I am also the mother of two adorable cats, Puck (left) and Roxy (right). Puck is very cuddly and friendly, while Roxy is more shy and will run and hide when she sees a stranger. But I love them both so much!
I started this wiki probably over 10 years at this point (I'm writing this on June 3rd, 2022) to be a space for people interested in writing and sharing their stories, whether they be fanfictions or completely original ideas. I was very young and, quite frankly, stupid back then lol, but as I've grown older I really look back fondly at the times I shared with my friends on here, way back then. I hope that we can restart this community and have it be a safe space for people to share their writing and ideas, and to learn, grow, and become better writers and members of our global interconnected community.
Currently I plan on writing my books on Scrivener, and posting larger chunks of them here as previews. The reason I'm only planning on posting previews is, as I've said, I would love to get my stories traditionally published, and that isn't really possible if they're posted for free on Fandom lol. If you like what you read, feel free to message me and we can talk about sharing our stories privately and giving each other some critique and constructive criticism!
If you'd like to follow me on social media, here are my links:
If you'd like to follow me, I would greatly appreciate it! I can't promise I'll follow you back, but if you tell me you came from ILWW I'll try to! Sometimes you'll get a response quicker by messaging me on one of these sites than Fandom, as I don't use this every single day like other social media platforms.
Happy writing!
Siona
My Work
Exaltation - High/epic fantasy story. Features mortals becoming god-like beings. Most characters are of dark skin.
Deleted Scenes - Deleted scenes from stories I am either currently working on or have put on hold or pieces from stories I am no longer persuing. Lots of different stuff to be found here.
All stories are rated explicit unless otherwise stated.