Hi there!
I'm the founder of this wiki (although with a new account). I am 23, and work as a pharmacy tech at a popular nation-wide pharmacy. I am currently going to university to study film production and art.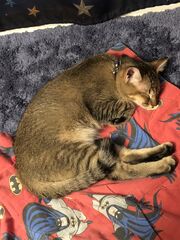 I love to read and write in my free time, as well as play with make up and video games. I love to read fantasy and science fiction and comics, and have interest in writing in those fields. I don't watch much tv, but I do like some anime (Sailor Moon, Naruto, Bleach, Death Note, Inuyasha, things of that nature) and some select shows (Stranger Things, RuPaul's Drag Race, The Mandalorian, among others). If you ever want to chat about tv or books, just send me a message!
I am also the guardian of two adorable cats, Puck (left) and Roxy (right). Puck is very cuddly and friendly, while Roxy is more shy and will run and hide. But I love them both so much!
Happy writing!
My Work
Deleted Scenes - Deleted scenes from stories I am either currently working on or have put on hold or pieces from stories I am no longer persuing. Lots of different stuff to be found here.
All stories are rated explicit unless otherwise stated.